MAS MIRÓ SKETCHING TOUR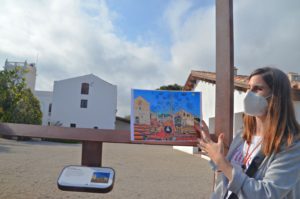 We will accompany you to discover the history of the farmhouse where the artist Joan Miró spent his summers since he was 18 years old and we will learn about the works he created here thanks to his important link with Mont-Roig. Throughout the visit we will create small works of art inspired by Miró's universe, using various techniques and materials, some even very curious as wine and the elements of the earth.
Duration: 2,5 hours
Price: 29€ adults and 22€ children (8-14 years old) and over 65 years old.
Dates: June 26, July 24 and August 21, 2021 at 10:30 am. (Spanish or Catalan). Contact us to arrange a date for a private tour.
PARC SAMÀ SKETCHING TOUR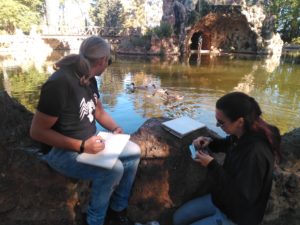 Learn about the history of Parc Samà, one of the most inspiring places in the Baix Camp region. This private garden, located in the municipality of Cambrils, was built by Salvador Samà at the end of the 19th century. A space that gathers the colonial influence brought by Samà's Spaniards ancestors.
We propose different exercises with which you will be able to create sketches with different techniques.
You do not need an advanced level of drawing. It is necessary to bring watercolors and support to paint.
Duration: 3 hours
Price (includes Park ticket): 20€ adults and 11,50€ children (8-14 years)
Dates: Contact us to arrange a date.
REUS SKETCHING TOUR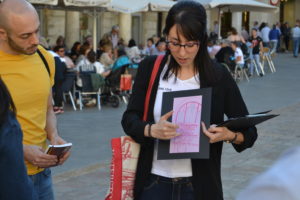 At the same time that we show the historical roots and the most characteristic corners of this city, we propose a guided tour to learn about the artistic elements offered by the urban landscape of Reus.
Duration: 3 hours
Price: Contact us to find out the group rates.
Date and time: Contact us to arrange a date.
In charge of M.Carmen Granados and Mar Ramos.
Mª Carmen Granados, Official Guide of Tourism of Catalonia, graduate in History of Art and Master's degree in Management of Cultural Heritage. She has been working as a tourist guide since 2010. In 2013 she creates the company La teva ruta, which offers visits in the provinces of Tarragona and Barcelona.
Mar Ramos, a local artist, graduate in Fine Arts from the University of Barcelona, with a Postgraduate specialization in Drawing Functions and a Master's degree in Drawing teacher training. She has trained herself in the use of cultural heritage teaching resources. She has collaborated in different cultural and educational projects, interested in the diffusion of artistic education outside the academic sphere. Currently, she combines artistic teaching with the management of activities in the museum sector.
[/vc_column_text][/vc_column][/vc_row]